By Elizabeth Hayes  –  Staff Reporter, Portland Business Journal, 2/9/2021
The biotech giant is getting ready to open a 130,000-square-foot expansion in Hillsboro, where it already has a major operation, by the end of the first quarter.
Based in south San Francisco, Genentech's Technical Operations facility in Hillsboro has "played a key role in the filling, packaging and distribution of Genentech and Roche medicines worldwide since 2008," a Genentech spokeswoman said in an email.
The new facility in Hillsboro will be dedicated to the commercialization of individualized medicines, she said. The building represents a "$175 million investment in new technologies and platforms that will allow us to scale our manufacturing capacity and deliver on our vision of providing the right treatment to the right patient at the right time. It will also drive job creation, as we anticipate hiring more than 100 people at this site."
Currently, Genentech employs about 450 people in Hillsboro. The company, which became a subsidiary of Swiss drug-maker Roche in 2009, has developed drugs to treat cancer and multiple sclerosis.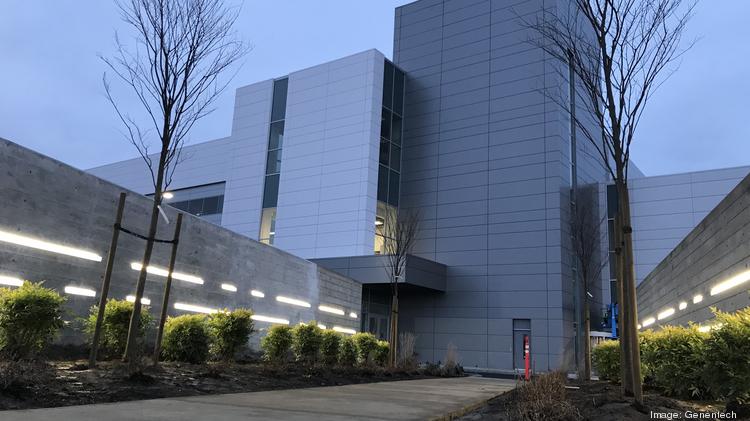 Genentech built a major expansion next to its existing Hillsboro operation. It is set to open in Q1 2021. (Photo by GENENTECH)
The city of Hillsboro worked with Business Oregon and Gov. Kate Brown's office, as well as Washington County, the Port of Portland and Greater Portland Inc. to "successfully deliver this project," said Dan Dias, Economic and Community Development director for Hillsboro.
Genentech used an Enterprise Zone incentive from the city that abates taxes associated with the investment for three-to-five years.
The city also worked with the other local, regional and state entities to deliver a first-of-its-kind air cargo service out of Hillsboro Airport, Dias said.
"This new service provides an additional freight option for Genentech, as well as other businesses in the area, who have low-volume but high-value cargo that is often time-sensitive and needing to get out of the region on a reliable schedule," Dias said.
Genentech is located in the Hillsboro Technology Park off Highway 26 in the Brookwood area, not far from Intel Corp., Qorvo and other semiconductor and biotech companies.
"This is one of many examples of the culmination of planning for these manufacturing and industrial investments that benefit the region and state as well, not to mention innovative products they make," Dias said.